These stories are based mostly off of Ranma 1/2, with a couple shorts from other series (and a crossover or two). I tend towards comedy and light romance, with plenty of plot twists and surprises. If you're looking for fanart, check out the other pages on my site.
Created 1998-12-07 and last modified 2001-04-30.
(Removed Fanart section and made minor cosmetic changes.)

Ranma and Akane just got back from China, having narrowly escaped death and marriage. Now they must face... Monday morning at school!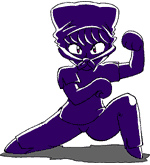 While the events portrayed in this story are original, they present, for the first time in a fan fiction, the true, untold background stories of Ranma 1/2, as described by Rukimo Tashahaki herself in an exclusive interview!
Ranma 1/2 oneshots, SPAMfics, and crossovers.
Stories from other series.
Credits
Ranma 1/2 © Rumiko Takahashi / Shogakukan · Kitty Film · Fuji TV. Exclusively licensed throughout the United States and Canada by Viz Communications, Inc. Slayers © Hajime Kanzaka · Rui Araizumi / TV TOKYO / SOFTX / Marubeni / Slayers Production Company. Released in North America by Software Sculptors, Ltd. and A.D.V. Films. Tenchi Muyo! Ryo-Ohki © AIC · Pioneer LDC, Inc. Oh My Goddess! © Kosuke Fujishima. English translation and lettering © Studio Proteus and Dark Horse Comics, Inc. All images and text on this page are copyright © 1998-2001 by Douglas MacDougall.